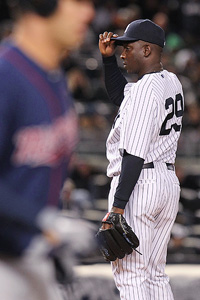 After Joe Girardi's over-managing loss to the Twinkies in an extra frame last night, pitching goat Rafael Soriano was gone by the time reporters showed up in the clubhouse.

The Star-Ledger's Marc Carig tweeted that Soriano was "nowhere to be found..."
Note to Soriano: This is not Tampa. Running from the press (especially the YES Network) will not cut it (you don't stand up Kimmy!). I expect some "seasoned" Yankees will discuss this with him.
As for the over-managing of Girardi, he continues to feel that 100 pitches is the kiss of death for a pitcher.
CC Sabathia was at 104 pitches and had easily retired the last 17 Twins batters he faced, giving up just two hits. Sabathia said his arm felt fine after seven innings.

But for Mr. Pitch Count, that was it for his starter regardless of how effective he was. After the game the somberly annoyed pitcher said "I know Joe and how he is. It's early in the season, and he's trying to protect us. I kind of had a feeling that was my last inning. What's the point of arguing? When he makes the decision, that's what it is. "

G-man then chimes in with: "At this point in the season, he's over 100 pitches. You have to be smart about him. We have a long ways to go -- this isn't August or September, this is early April. "
That's great, but games in April count too. If they didn't, this game would have been played at Steinbrenner Field in Tampa and the reliever would have been sporting number 93 on his jersey.
So enter Sorriano who stinks up the joint. Then comes David Robertson who gives up a bloop bases clearing double, that was misplayed by Nick Swisher. "D-Rob" (uh...no) retires the next batter to end the 8th, Mo retires the 9th on 13 pitches as we go to the 10th tied at 4.
Boone Logan, who never met a man he didn't allow to reach base, starts the 10th and promptly walks the lead-off hitter who ended up scoring what would be the winning run.
Tonight, our ol' pal Carl Pavano faces Freddy Garcia. Let's hope that Freddy does better in his Yankee debut than is rotation competitor Tubolo Colon.