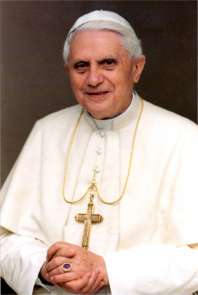 Pope Benedict XVI will visit New York City during his first trip to the United States, and plans on leading a public Mass on April 20 at Yankee Stadium.
UPDATE: CLICK HERE
This will be the 3rd (and final) papal mass at the current Yankee Stadium. Pope Paul VI presided over a Mass in 1965 and Pope John Paul II did the same in 1979.
Over 80,000 people attended each Mass.
The Pope will also visit Ground Zero and address the United Nations before flying back to the Vatican.
Before the NY visit, Benedict XVI will be in Washington, DC to meet with President Bush.
"President and Mrs. Bush are honored to welcome His Holiness to the White House next April," a spokesman for Mr. Bush, Gordon Johndroe, said.