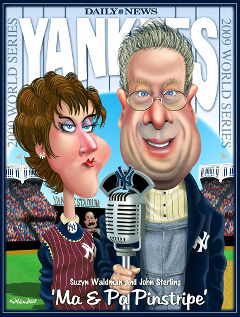 The Yankees have reportedly extended their contract with WCBS-AM 880 radio to continue broadcasting their games through the 2012 season.
This would seem to indicate that Ma & Pa Pinstripe (John Sterling and his "Yankees componere" Suzyn Waldman) return to the Yankees broadcast booth with the play-by-play, Broadway anecdotes and show tunes.
The Yankees have an option for 2013, but a long term deal is in the works. There have been rumors that WFAN would part with the Mets when their contract expires and the Yankees would then move from WCBS to WFAN. Both stations are owned by CBS Radio.
Photo Credit:
Ed Murawinski (Murawinski/Daily News)