Yet another attack on the Yankees from the office of Boob Watson.
From the NY Daily News:
Reggie Jackson

was penalized by Major League Baseball in the aftermath of Wednesday's
bench-clearing incident with the Rays, according to Yanks GM Brian Cashman. Jackson got a letter of
discipline from MLB banning
him from being in uniform for games for the rest of spring training and also fining him $250.
"Apparently, he went out in the melee," Cashman said. Jackson's name was not mentioned in MLB's press release Friday announcing the suspensions for Shelley Duncan, Melky Cabrera and Tampa Bay's Jonny Gomes.



OK Boob, let me give you some inside info. The incident was classified as a "bench clearing brawl". For those of us familiar with baseball, that means that all the players and coaches from both teams left their respective dugouts to participate in the event.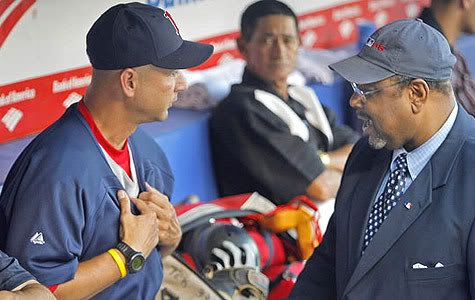 So why is Reggie being singled out?

Going by this penalty, ALL of the Yankees and Rays should have received the same punishment.

Boob says that Reggie went out there. So did Rays' manager Joe
Maddon. Where is his suspension and fine?

Boob is so over his head in this "job" that MLB handed to him.

Thanks Bud!

Hey Bud...by the way...How's Chris Dodd's presidential run going? With all the money you gave him he must be up there in delegates with Clinton and Obama!