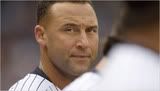 I'm not a lawyer or tax expert, but I think Derek Jeter can beat NY's tax claim.
Look at it this way:
After the season, the LATEST he gets to Fla is November 1.
Spring training (in Florida) begins February 12.
The regular season begins say Apr 1.
That is 6 months in Florida right there.
Half of the year (183 days) + Approximately 100 days (81 games + off days and rain outs) on the road.
I count that as 283 out of 365 out of NY.
Case dismissed.