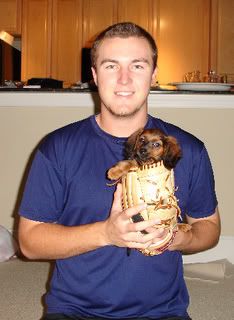 As Phil Hughes get beat around in the Arizona Fall League, (15.2 innings, 15 hits, 13 runs, 9 earned runs, 10 walks, 14 strikeouts, four home runs), one has to start wondering what the %$&* are the Yankees are doing with their pitching prospects.
NY Post reporter Joel Sherman says
one scout observed
that Hughes' mechanics are screwed up.
"He couldn't command his fastball to the corners at all. Only about half his curves were good and only about one in four were in the strike zone. He is working to add
that changeup (to use against lefties), threw three and all were up and out of the zone.

"I think the problem is that his elbow is too low so he is not commanding because he is not throwing downhill. His command stinks because his motion stinks. For example, his curve has good rotation and break, but I think because of that delivery it breaks early and so hitters pick it up."


If other scouts see this, way don't the Yankees seeing this?

Why is he allowed to pitch in the AFL with flawed mechanics?

That's a real good way to get hurt.
The problem is, once again, the pitching guru combo of Contreras, Connors and Eiland.

Until Cashman wakes up and makes a change in this department, the Yankees pitching prospects are doomed.