Welcome to
YankeeAutopsy
. An in depth look at what went wrong (and right) in 2008.
Today we look at pitching.
One cannot discus Yankees pitching with out examining the flawed and failed philosophy known as "
Joba
Rules". The philosophy is that a pitcher should not pitch more than 40 innings more than he did the previous season. There are some stat freaks out there that have produced data that says these pitchers who exceed that 40 innings get hurt.
The Yankees pitching "philosopher" pushing this plan is
Nardi
Contrares
, backed up by Billy Connors and followed by Dave
Eiland
.
Joba
Chamberlain, Phil Hughes and Ian Kennedy were going to follow this plan and all would be great. Well, they all got hurt and the plan failed. What is alarming is that the "plan" will be
repeated in 2009
.
When a pitcher takes the mound with a pitch limit or innings limit, it changes the way he pitches. He will try to do more in less. Knowing that the limit is approaching he might try to get some extra zip on the fastball (that ends up a wild pitch) or some extra snap on a curve ball (that ends up in the seats). A pitcher needs to have a clear mind and concentrate on the task at hand, not his count.
This is why
Joba
started in the pen, went to the rotation and ended up on the
DL
.
One last thing about the "rules". If there was a 19 or 20 game winner out there as a free agent, that could be brought in for a fair price, BUT he pitched 40-50 innings more in 2007 than 2008, would you take him?
If you will, great! If you say 'no', you just rejected Mike
Mussina
. 40+ more innings than 2007, 8 more wins, 1 less loss (as of today), at 39 years old.
Where would the Yankees be without Mike
Mussina
? Competing with Baltimore for a spot on the basement,
that's
where. Andy
Pettitte
was miserable in the second half and Kennedy and Hughes failed before they got hurt.
Chien
-Ming Wang was 8-2 when he got hurt and no viable replacement was found. Darrell
Rasner
and Sidney
Ponson
did what they could to keep keep the game close for 5 innings. Carl
Pavano's
4-1 was nice but too little too late.
It took
Girardi
and
Cashman
too long to realize something everyone else knew:
LaToya
Hawkins stinks! They went way too long with Hawkins and
Farnsworth
before they were jettisoned. Another bullpen mystery was their infatuation with Billy
Traber
and Chris "Buffet"
Britton
. How many times did these guys need to get beat like eggs at
IHOP
before someone realized that these 2 are horrible?
Mariano Rivera's difficulty in non-save situations was puzzling, but he's still Mo and he's still the best their is.
The forgotten man is
Jona
than

Albaladejo
. He showed some potential as a set up man before he got hurt.
Edwar
Ramirez and Jose
Veras
proved the belong here and I've seen enough of Brian
Bruney
.
We also got to see a bit of the future in Phil Coke, Alfredo
Aceves
, Humberto Sanchez, Dan
Giese
and Dave Robertson. All of whom will be in the mix this spring.
The addition of
Damaso
Marte
did not prove much. This is
Marte's
second stop in the Yankees organization. In 2001 the Yankees sent him to Pittsburgh for Enrique Wilson.
Honorable mention to Ross
Ohlendorf
who was traded to Pittsburgh in the Xavier Nady deal.
Finally, I would have liked to have seen more from Scott Patterson and with his removal from the 40 man roster, we have most likely seen the last of
Kei
Igawa
.
For 2009, I would like to see
Eiland
, Connors,
Contrares
and "the rules" dismissed and a special assistant GM with an expertise in pitching hired to work with
Cashman
.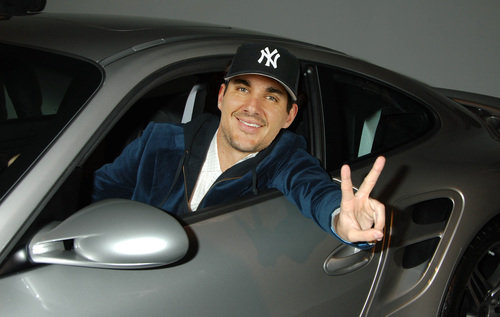 I would try to bring back
Mussina
and
Pettittte
, depending on what they want. I'm uneasy about C.C.
Sabathia
due to his weight gain. I can see him turning into Sid Fernandez before the ink is dry. Ben Sheets who is injury prone and A.J. Burnett have also been mentioned as a Yankee interests. I would like to keep
Ponson
around in some capacity and (GULP) bring back
Pavano
. My guess is that Kennedy (and his attitude) will be traded.
Coming in part 3:
The Infield
.