Brian Cashman made yet another statement concerning "innings limits" for the young guns.
On Joba Chamberlain: "We're going to prepare him as a starter and we see him as a starter, but we have an innings limit that he won't exceed. How we manage the innings limit remains to be seen."
Cashman refused to reveal Chamberlain's innings limit.

When asked if Phil Hughes or Ian Kennedy have limits as well, Cashman said, "We'll manage innings limits on everyone who's got them."
We know that you must be 18 to vote and 21 to purchase alcohol, but how old must you be to pitch 200 innings in Yankeeland?
Obviously 22 is too young.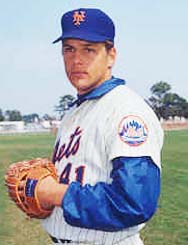 In 1967, 22 year old rookie Tom Seaver pitched 251 innings. Seaver went on to pitch 200+ innings every season until 1980 when he was 35.
1986, 23 year old Roger Clemens pitched 254. 1984, 19 year old Dwight Gooden, 218. 2005, Dontrelle Willis hurled 236 innings at 23. John Smoltz in 1989 checked in with 208 innings at 22 years old.
So my question to the pitching department is when do the limits end? When will you let go of the leash and turn them loose? Between 25 and 30? Give me a number!
I HATE pitch counts! There is nothing worse than seeing a pitcher who is throwing a good game get hooked because he hit some magic number on someones clicker. ESPECIALLY when you turn it over to a SUSPECT bull pen.
So far, I don't see any improvement in the Yank's pen over last year. It seems that Cash's plan is to pitch them 6 innings, with Farnsworth and Hawkins filling the gap to Mo.
That plan is doomed to fail.